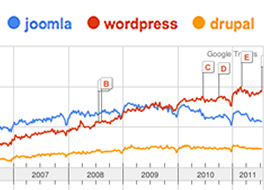 Is the sky falling for Joomla?
In Google Trends - Joomla! vs Wordpress vs Druplal, the line for Joomla! on the trends graph is falling in a very disturbing way. Despite the optimism prior to Joomla! 1.6 which brought much desired improvements like advanced access control list (ACL), Joomla! has not prospered in comparison to Wordpress. A continued fall on the chart may imply that Joomla! could find it's final resting place at the bottom of the three lines. Why is this happening?
Is the sky falling for Joomla?
This is not a trend that is being ignored by long time Joomla! advocates and developers. It is being openly discussed in places like the newly formed Google+ Project. Some of the explanations put forward are that other systems are easier to use than Joomla!, hosting support for Joomla! is not as prevalent as other platforms, the Joomla! progress from 1.5 to 1.6, and now 1.7 hasn't been as smooth as it should, users are confused with Joomla!, a lack of effective public relations for Joomla!, political problems in the developer community of Joomla!, etc.
Some say it's not so bad
There's a lot of opinions why Joomla! is not doing well on the trends chart. Not everyone sees it the same way. Some people will tell you that we're just being negative and it's not so bad, it's just a bump in the road. I don't think so and I would hate to see such a fantastic content management system with so much potential like Joomla! fall apart. Clear direction and vision, strong and capable leadership are needed to bring the momentum back to a positive swing.
What do you have to say about the Joomla! Project?
Maybe you have something to say that needs to be said about Joomla! and why it's trending poorly. Your suggestion might make the difference to help turn things around. Discussion is always a good thing. I'd like to hear your point of view. This topic is open. Have your say. I'm all ears here.