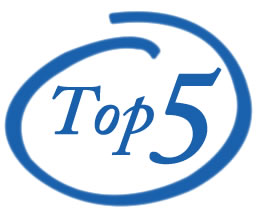 One of my favourite movies from 2000 was High Fidelity. In that flick John Cusack laments his "Top 5" breakup songs. So in the spirit of High Fidelity I would like to declare my Top 5 list from the Joomla World Conference 2012 sessions.
I only saw a small number of sessions in person while I was there from the 60 plus sessions of the event. This top 5 list is actually my top 5 right now list until I get all the way through the videos posted from the event. My list is a good one so far. It will take a pretty good session to bump any of these off the list. So here we go…
Here's my Top 5 Joomla World Conference 2012 sessions list

Is Joomla 3 ready for enterprise?: Victor Drover
This was my favourite session from Joomla World Conference 2012. I saw this session in person from outside the overflowed room in the hallway. Victor Drover is a great presenter with a hot topic.
Using Videos to Train Your Clients: Rod Martin
Another top notch presenter is Rod Martin. I adopted several of Rod's great tips as soon as I got back from the conference. There are some audio issues at the beginning of this video that clear up about 5 minutes in.

Joomla 2.5.x ACL for newbies (or not quite so): Helvecio da Silva
I was very impressed with the effort that Helvecio put into this presentation. If you are a visual person you'll love the charts he shows on how ACL works in Joomla! 2.5. This will help you understand a complex topic.

Joomla Family Tree: Steve Burge
I was at this session and despite some audio issues with this video including not being able to hear some of the interaction from the attendees this is a favourite pick. I have always believed that you are most like the people that you are connected to. You'll find this session very interesting.

The Last Frontier: Joomla! Multi Lingual Sites: Jon Neubauer
Jon Neubauer is a very good presenter and does a great job of showing how to create a multilingual site with Joomla. Unfortunately there are some audio issues with this session. Don't ever pass up a chance to see and hear Jon in person when you have an opportunity, you'll be impressed.
One more thing...
I was at the Joomla World Conference too and this is my presentation below. Since this is my blog I didn't think it was fair to make this my number one pick :-)
judge for yourself if it deserves to be in anyone's top pick list.

Secrets of Getting an A+ Joomla! Reputation and Attracting A+ Clients: Joe Sonne
There are great speakers & content at Joomla World Conferences. Make sure you plan to be there in 2013
There you have it, my top 5 picks from Joomla World Conference 2012. Like I mentioned at the beginning I haven't seen all the sessions yet but you can't go wrong with these picks.
I'd love to hear about your favourites and don't forget to look me up when you are at the next Joomla World Conference!