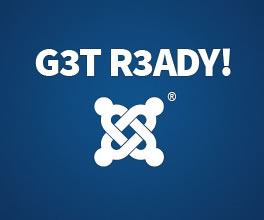 An Alpha version of Joomla! 3.0 is now available for download and it's an exciting new release. Among other things this new version is positioned to have mobile built right into it. So the question now is what version of Joomla! should I be using?
This particular 3.0 version of Joomla! is for developers and early adopters only. If your website is currently on Joomla! 1.5x or Joomla! 2.x you are in good shape. Both of these versions are solid. Something to keep in mind however is that Joomla! 1.5 has come to it's official end of support by the Joomla! project. Now is the time to think about the future of your Joomla! website.
What are some of the highlights of Joomla! 3.0?
Mobile computing is huge and Joomla! will be mobile ready right out of the box!
Joomla! 3.0 has an all new admin backend design. It's dramatically different than what we have seen since v1.5. It's clean looking, modern, and easier to work with.
Bootstrap is now a part of Joomla! (http://twitter.github.com/bootstrap/).
Regarding Javascript, Joomla 3 is moving toward the very popular jQuery for it's core. It will be included in noConflict mode. Mootools is still a part of Joomla! 3.0 so your existing Javascript extensions that rely on Mootools will work.
Something important to note is that PHP 5.3.1 is the minimum supported version for Joomla! 3.0 and official support for some older browsers will be discontinued.
Joomla! 1.5 is almost 5 years old now!
You heard it right, Joomla! 1.5 is almost 5 years old! If you are currently using a Joomla! 1.5 site and you plan on your website being a vital part of your business into the future you should be making plans now to move your Joomla! platform forward. The move from 1.5 to 2.5 is not an upgrade, it's a migration. There are significant differences in Joomla! between version 1.5 and 2.5 under the hood. Careful planning is required to migrate your website from 1.5. If your site is large or complex it's always wise to engage professional help to do this.
What do I do if I am on Joomla! 2.5 now?
Joomla 2.5 is currently the Long Term Support (LTS) version of Joomla. It has already undergone many months of real-world testing and it's stable, tested and reliable. It's the right version for existing sites.
Joomla! 2.5 will continue to be supported until 2014. The upgrade from 2.5 to 3.x will be easy. You should be able to do the upgrade right from the administrator area of the website. Of course you need to keep an eye on all the extensions that you use on your site to make sure they are ready for 3.0.
Here's a visual representation of the viable Joomla! versions and how they officially stand with the Joomla! project: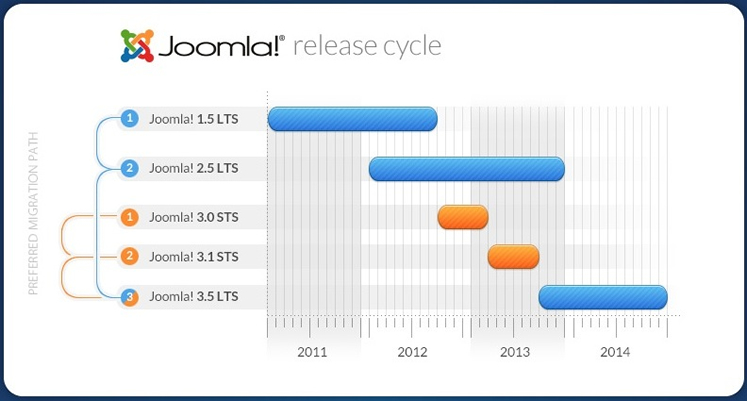 LTS = Long Term Support STS = Short Term Support
So you can see that there's no need to go to 3.5 until it's been real world tested and proven by those who have the skills to deal with early adopter stuff.
And finally...
Here's a great 2 minute video titled "Understanding Joomla! Versions"