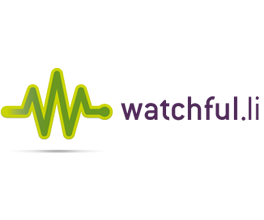 It can be a daunting task to keep all your Joomla! websites up to date including the third party extensions. Each website is usually a unique mixture of components with their specialized functionality. Although you might only have a small number of extensions and plugins on any particular site, once you have many sites you have a long list of things to keep track of. For my websites I've done this by keeping a database record of each site so I remember which ones to login to when updates are required. It's far from a perfect solution and often a site will lag behind in an update. Now there is an easy way to monitor all your websites and be on top of updates and backups the way a responsible webmaster should be.
Watchful is a great solution for monitoring all your Joomla! websites
Watchful is a web based service which gives you a clean and pleasant looking central dashboard for monitoring all your Joomla! websites.
It is an impressive service developed and maintained by two companies; inetis and Anything Digital.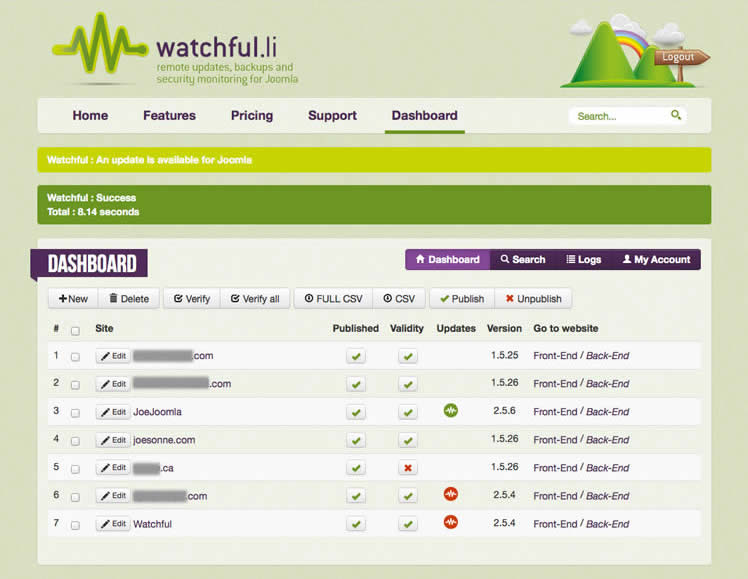 From this central dashboard you can add all the Joomla! 1.5 & 2.5 websites that you maintain and watch everything. You can keep track of Joomla! core updates, extension updates, perform backups manually or schedule automatic remote backups. Watchful will send you an email notification if your server goes down. It scans your site every three hours and tracks changes in web services and file modifications. if your site is being hacked it will alert you as soon as the scan is complete.
When there is an update available for any of your websites you are alerted by a red colored icon. By clicking the icon you can view and perform the necessary updates.
Keep an eye on updates for Joomla! core, components, modules, and plugins
Watchful comes with monitoring for 1.5 and 2.5 websites. The buttons for upgrading are 2.5 specific since it uses the Joomla! notifier which is not available in Joomla! 1.5. Watchful is good for backups, monitoring, and logging for Joomla! 1.5+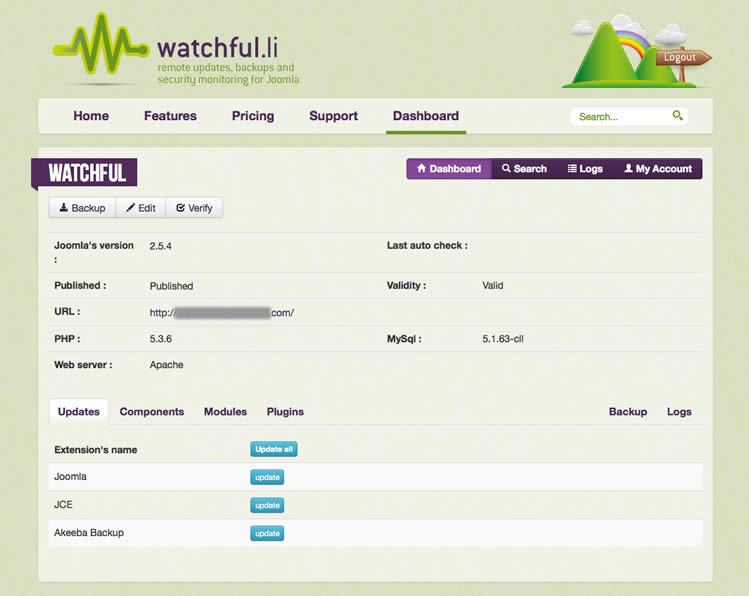 In this site detail view the first column "Updates" shows you what updates are available for your site. It's as simple as clicking the button to do the updates. The "Components" "Modules" and "Plugin" columns gives you a list of each of the items on the website with their version numbers.
One thing to keep in mind when you want to update everything is to backup Joomla! first. This way you can roll back your site if you need to for any reason.
Find those extensions!
If you are aware of a particular extension that has been reported to have a security vulnerability Watchful has a search feature to locate any of your sites they are installed on. This is a big time saver especially when you have a lot of sites.
Backups are a breaze from Watchful
Akeeba remote backups of your site can be scheduled via a cron daily, weekly, or monthly when you add a site in Watchful. By a click of a button you can trigger an immediate backup from here as well. It also shows you a list of the last 10 backups. Watchful keeps a log of all the activity done from the dashboard.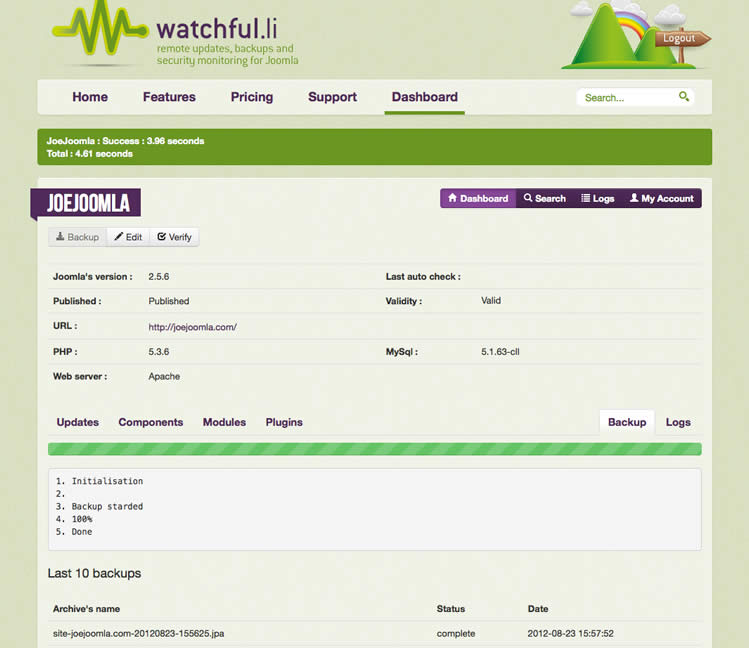 Adding your websites to Watchful is simple
Adding a website to the dashboard is simple, you install a component in the websites you want to monitor which generates a secret key that you use when adding the site to your dashboard.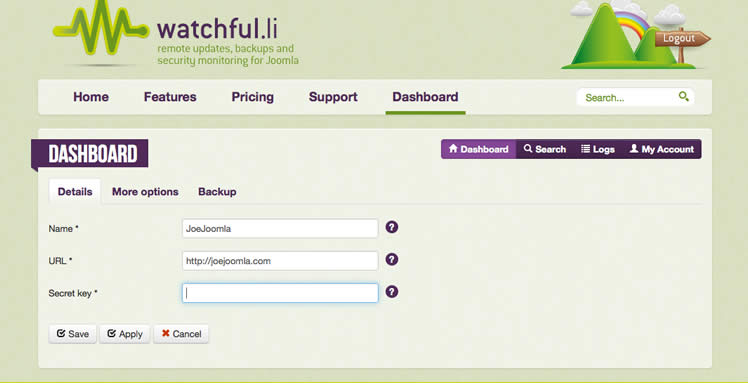 Give the site a name, enter it's URL, and pop in the secret key generated by your website's Watchful component.
There are more options you can include:
Add an administrators URL if yours is different than the standard Joomla! admin URL such as when you use a plugin like the jSecure Authentication module which prevents access to administration back end login page without appropriate access key.
You can add a word from your site's homepage so that Watchful can monitor it and ensure your site is online
Cron scheduling of Remote Backups by Akeeba. Simply make sure you configure Akeeba on your site for remote backups and share the secret word from Akeeba with Watchful so it can trigger the backup on schedule.
What about security?
Watchful uses a unique Secret Key to ensure that only authorized users can access and control your site remotely. It is secured with a 2048-bit, next generation Extended Validation SSL certificate.
What's the bottom line on this service?
In my opinion Watchful represents great value. The time savings of keeping track through a central dashboard of all your site updates and their extensions is significant.
Joomla! website maintainers can use Watchful to offer their clients monitoring services as a value added service. Large corporations with many sites will love Watchful.
There's no need to roll your own solution. Watchful has great price points for 5 websites, 25 sites, 100 sites and over. There is a free trial of up to 5 sites for 30 days.
I've been waiting for something like this for a long time. I'll bet many others have too. For an initial rollout of this kind of service Anything Digital and inetis have done a great job.